My Thoughts
When I want to understand what is happening today, or try to decide what is happening tomorrow, I look back.
--Khayyam--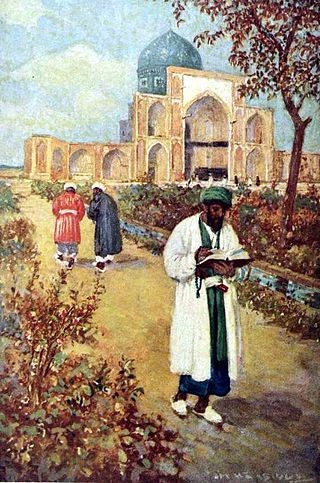 At the Tomb of Omar Khayyam: Jay Hambidge (1867-1924)
Date: May 02, 2017)
I often look out my window while in deep thought, both day and night.

Recently, my thoughts have returned to the terrible days in Iran of which I was both an eyewitness and a victim four long decades ago. My thoughts have then inevitably turned to what may be the last chance for freedom loving Iranians everywhere to win our country back, for light to replace darkness, for good to replace evil, for hope to replace despair.

These last 40 years have not been easy ones either for my family and me, other Iranian expatriates who remember the increasingly distant past, or younger Iranians living under the despotism of the Islamic Republic in Iran (IRI) who do not personally remember His Imperial Majesty, Shah Mohammed Reza Pahlavi, Her Imperial Majesty, Shahbanou Farah Diba Pahlavi, or their blessed family. The only thing such younger people know in Iran in their brief lifetimes is that they and their loved ones live under the jackboot of Islamic theocratic oppression and fanaticism. Deliverance seems an eternity away.

And so there are long days and nights when my mind engages in a journey into the past. It is difficult to do this without occasional bitterness, and overwhelming sadness over what could and should have been. It becomes most unbearable when I remember what a wonderful man my beloved Father, General Ali Neshat, was. As the last Commander of the Shah's Imperial Guard, he willingly stayed in his country and gave his life for the Royal Family and for his nation. He was one of many martyrs during the early horrific days of the Khomeini regime, and in the years that would follow. My friend, Cyrus Kadivar, chronicled the last 37 days before the end leading to the beginning of unimaginable, interminable, incessant nightmares. Sadly, there may yet be more bloodshed and loss of life as the terrible events of four decades ago continue to play out in world history.

How did all of this happen? It is widely understood that the coalition of Red (Communist) and Black (Islamic theocrats) that overthrew the legitimate government of my country were receiving economic and political backing from foreign sources with clandestine objectives. F. William Engdahl documents much of this in A Century of War: Anglo-American Oil Politics and The New World Order as does Andrew Scott Cooper in The Fall of Heaven: The Pahlavis and the Final Days of Imperial Iran.

The missions of General Robert E. Huyser (USAF) and American Ambassador William H. Sullivan to Iran in the final days of the Monarchy carried out these clandestine objectives at the direction of Zbigniew Brzezinski, George Ball, and their partners at the Council of Foreign Relations (CFR). In the case of General Huyser, he arrived in January of 1979 to meet with senior Iranian military officers without the knowledge or consent of His Majesty. As for Ambassador Sullivan, he was reportedly making "discrete contact with [Ayatollah] Khomeini's representatives" without even consulting his own White House. Mr. Sullivan was widely rumored for years to have used his previous role as an American Ambassador to Laos to topple the pro-US government of General Phoumi Nosavan in that country. That fact, and General Huyser's unauthorized contacts with senior Iranian military officers without the knowledge and consent of the Head of State of my country, suggested that something along the lines of American participation in the 1967 military coup in Greece against King Constantine was afoot.

Houchang Nahavandi, one of His Majesty's ministers and closest advisors has written in his book, The Last Shah of Iran, that:

"We now know that the idea of deposing the Shah was broached continually, from the mid-1970s onward, in the National Security Council in Washington by Henry Kissinger, whom the Shah thought of as a firm friend. . . ."

James Perloff writes in The New American that Ayatollah Khomeini was followed by a "shadowy past." We learn from Perloff that:

"The 1960s rioting linked to him [Khomeini] was financed, in part, by Eastern bloc intelligence services. He was in the circle of the cleric Kachani Sayed Abolghassem, who had ties to East German intelligence. Furthermore, in 1960, Colonel Michael Goliniewski, second-in-command of Soviet counterintelligence in Poland, defected to the West. His debriefings exposed so many communist agents that he was honored by a resolution of the U. S. House of Representatives. One report declassified in 2000 revealed, 'Ayatollah Khomeini was one of Moscow's five sources of intelligence at the heart of the Shiite hierarchy.'"

Yet, with all of the evidence as to the coalition of Red and Black working against the 2500 year old Persian Monarchy in the 1960s and 1970s, American and Western diplomats who had worked with His Majesty for decades chose to believe in the false spin of the controlled mainstream media in the United States, Britain, Israel, and elsewhere, that agents of the Shah committed the atrocities of August 19, 1978 in the Rex Cinema fire in Abadan, and the September 8, 1978 shootings during radical demonstrations in Tehran. All of the evidence pointed elsewhere.

Nahavandi notes that inside Iran at that time:

"The Voice of America, the Voice of Israel, and especially the BBC, virtually became the voice of the revolution, moving from criticism, to overt incitement of revolt, and from biased reporting, to outright disinformation."

This is the history of what happened in my country then, those who gave their lives fighting the great evil that was enshrouding my land, and robbing Iran of men like my Father in the prime of their lives. This evil is increasingly recognized now in the West as the years have passed. How much longer will it be allowed to remain? Will some of us who lost virtually everything all those many years ago live long enough to see justice, liberation, and peace restored to a once great and proud nation of 2500 years duration? Will barbarism, oppression, and fanaticism finally be consigned forever to the trash heap of history? Or will its victims live forever in exile before the end of history itself?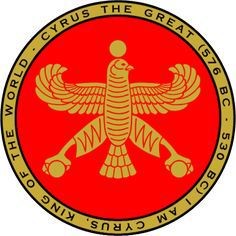 For reasons I cannot fully understand, I believe there will be one great and final chance. His Imperial Majesty, Reza Pahlavi, has called for open revolution in Iran this May 7th-14th against the criminal predators destroying Iran since 1979, who have a farcical Presidential election coming up on the 19th of May. There can be no historic Persian Monarchy and Constitutional Republic alongside an incompatible and antithetical system of Islamic theocracy with its Guardians Council, its Expediency Council, and its Supreme Leader. The two systems cannot be reconciled or in coexistence. Only one can prevail.

The atoms and molecules of history are aligning for only one chance for the restoration of our Monarchy, our culture, and our people. As the West gets closer to confronting the evil whose rise it facilitated for cynical reasons in 1978-79, we expatriates must be ready to assume our rightful place in our country with our way of life in replacing a regime that is autocratic and tyrannical, even as it threatens the West and alienates the entire population age 30 and younger in Iran itself, that have no blessed memory of a better life in days of old, and were not witnesses to the horrific crimes of the IRI in its earliest and most demonic days.

Like the poet of old, "When I want to understand what is happening today, or try to decide what is happening tomorrow, I look back." Divine providence has decreed that we have one more chance. We must be ready. And we shall win as our most glorious days past miraculously become present and future. That is my thought and prayer tonight as I look out my window and think during a night soon to become day.