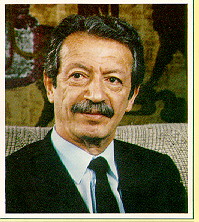 Dr. Shapur Bakhtiar
Dr. Bakhtiar was born in 1914 . After completing his primary schooling in Iran he attended a secondary school in Beirut, following which he obtained his PH.D in the field of political science from the Sorbonne in Paris.
As a firm opponent of all totalitarian rule, he volunteered for service with the French Resistance and served in the "Orlean" battalion in WWII.
Dr. Bakhtiar returned to Iran in 1946 and entered the Ministry of Labour, in Dr. Mossadegh's cabinet in 1951. Following the fall of the Mossadeq Government, he remained a firm critic of the Shah's administration and was subsequently imprisoned for a total of nearly six years and banned from leaving Iran for a period of ten years.
Having been a leading member of the opposition to the late Shah for over twenty five years on constitutional and democratic grounds, Dr. Bakhtiar accepted the almost impossible task of forming a civilian government to replace the existing military one in the closing days of December 1978. During the brief period of 37 days when Dr. Bakhtiar was Prime Minister, he disbanded the much hated SAVAK - the secret police, freed all political prisoners, allowed total press freedom and began the process of establishing a modern democratic state in Iran.
Despite his opposition to the Shah, he predicted even worse consequences from Khomeini's despotism and the mixing of state and religion. Dr. Bakhtiar was tragically murdered by the agents of IRI along with Sorush Katibeh in 1991, shortly after Dr.Borumand was gunned down at his home in Paris.