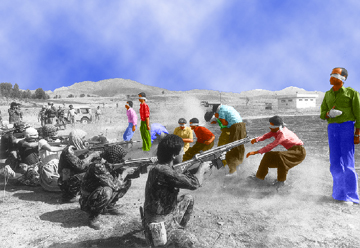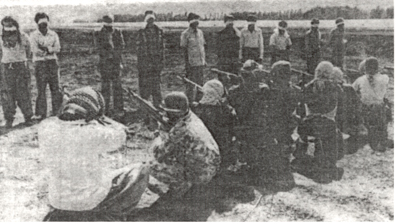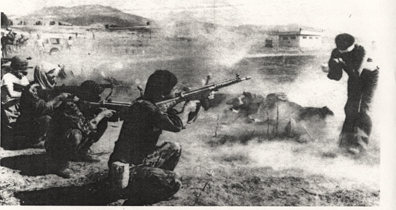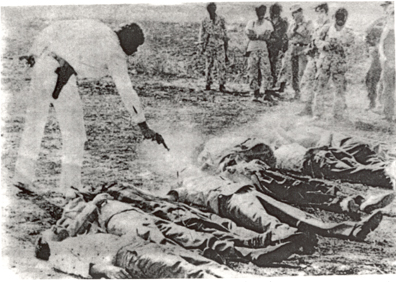 Ayatollah Khalkhali: If they were guilty they will go to hell and if they were innocent they will go to heaven.
In April of 1979, Khomeini denounced the Democratic Party of Iranian Kurdistan as an anti-Islamic Party, issued a fatwa, and thus declared a holy war on the Kurds of Iran. On August 18, 1979, two days after Khomeini assumed powers as commander in Chief of the Armed Forces, he sent the army to attack and occupy Paveh, Sanandaj and Saghez. Having defeated the Kurds in the cities, Khomeini appointed Khalkhali, as head of security for Kurdistan, who proceeded with a series of summary trials and executions. The following is an example of such a trial:
Khalkahli: Where were you born?
Defendant: I was born in Orumiyeh.
Khalkhali: What happened to your hand?
Defendant: During the Tehran uprisings [the Islamic Revolution] a grenade exploded in my hand.
Khalkhali: Very good! Very good! What are you doing here?
Defendant: I came here as a guest, to take part in a social get-togethering.
Khalkhali: That is good! Born in Orumiyeh, took part in the Tehran uprising, executed in Saghez. It all goes very well together. Kill him! Next!
Khalkhali's Assistant: This fellow's father is a usurer.
Defendant: My father is a usurer. What does that have to do with me?
Khalkhali: Usury is haram, and so is the seed of usury. Kill him! Next...
On that same day, at least 24 other young Kurds were tried by Khalkhali, in the same manner, and executed in the city of Saghez. Similar trials and executions took place during the days that followed, in other cities. On another day, for example, in the city of Mahabad, 59 other Kurdish men were tried and executed by the same revolutionary court. In response to the question as to whether the people that had been executed were guilty or not, Khalkhali claimed: "If they were guilty they will go to hell and if they were innocent they will go to heaven." And thus, the Islamic Republic continued to fight and to prosecute the Kurds of Iran, resulting in the death of over 40,000 Kurds and the destruction of at least 350 of their villages.